Structures create Formality.  Formality supports Discipline. Discipline is frontline protection against the Law of the Jungle.
Family Structures – Overview
Structures are tangible things that help Family Harmonisation and Best Practice processes. They add shape, substance, formality, authority and discipline to the family equation. And they're essential for long term family success.
Family Structures come in two forms: (1) Family Bodies and (2) Family Agreements.
Family Structures (1): Bodies
Family Bodies are formalised groups that:  make plans and decisions, do things, and ensure that others do what they're supposed to do.  They have authority within the family, without any formal legal status.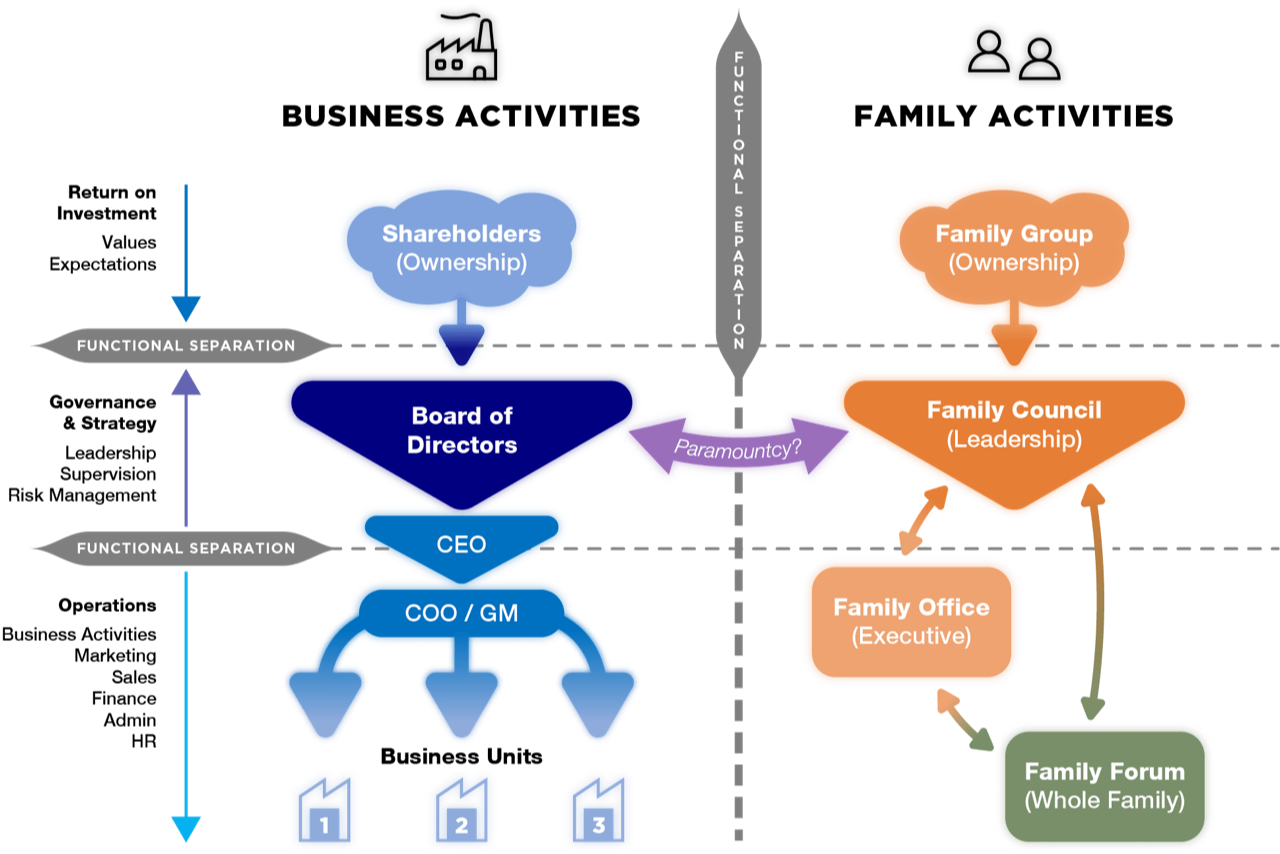 Family Council
A Family Council is like a Board of Directors for the family. It has a key leadership and Stewardship function and is the supreme representative, governance and decision-making body for the collective family.
Key sections of the family (major bloodlines) should be represented on the Council, to ensure that everyone's views are represented and their positions protected.
The Family Council initiates important tasks like developing and implementing the Family Plan and updating the Family Constitution.
The Council provides focus and discipline, especially for interactions between family members and the business.  It's the family's forum for discussing and deciding issues such as formal rules for the employment, performance measurement and remuneration of family members in the family business, and it should be a key sponsor of responsible succession processes.
Family Forum / Assembly
Where the Family Council comprises representatives of the family's major bloodlines, the Family Forum is a meeting, usually held annually, where the entire family gathers to learn about the family and the business.
Many families use the Family Forum to justify an annual get together; as an opportunity to introduce younger family members into the family's history and culture; as an opportunity for team building between generations and family branches and, more than anything else, as a celebration of being a family in business.
Agile Family Office
Family Offices help to manage and protect the family's collective wealth, and provide a wide range of professional and other services to family members.
Services can range from conventional legal, accounting, finance and insurance, to careers counselling, coaching and mentoring, business advice, next generation education and conflict resolution.
Although previously the preserve of the ultra-wealthy, Agile Family Offices have now become easily accessible to Business Families of much more modest means.  Depending on needs, they range from being on-demand networks of skilled and complementary advisers to permanent offices of one to several personnel, (sometimes including family members) tasked with looking after the interests of the family, and its members.
Family Structures (2): Documents
The second type of tangible Family Structure is the suite of formal documents that evidence the family's: plans, intentions, mutual obligations, culture, stewardship requirements, legacy aspirations, and general rules of engagement.
Family Constitutions (or Charters)
This major legacy document lies at the core of both the Family Harmonisation and Business Professionalisation processes.  It's sometimes called: "The Family Rule Book", or "Family Rules of Engagement"
The Family Constitution/Charter is a formal document that captures the spirit and intentions of a business family, and sets out guidelines and rules to help direct decisions and manage individual and collective actions and interactions:
Between the family and the business.
Between family members; and
Between the family and the outside world.
Constitutions are living documents – subject to constant review and updates as the family and its business interests evolve and change.
The initial document should be prepared collaboratively by all key family members (including partners and spouses) through meetings, workshops or retreats.  It usually takes 2 to 4 very full days to complete a Constitution, after preparatory discussions have taken place within the family on many relevant issues.
The conversations that take place within the family about a broad range of issues are as important for the family, at that time, as the final written outcomes.
Warning:  Business Families are often advised to develop a Family Constitution to help them deal with current issues, uncertainties, and even conflicts.
This is seriously misguided advice. Like any good contract, underlying issues should be fully worked through before any attempt is made to document agreement.

Mutual Obligations Charter
This unique document dovetails with the Family Constitution.
The concept is simple: in return for the benefits individuals receive as members of the XXX family, they have certain obligations – to the family as a whole, and to fellow family members.
The Mutual Obligations Charter codifies these obligations, and creates an annual compliance process to ensure that everybody is doing the right thing by everyone else, by maintaining appropriate: accounts, tax, wills, financial plans, career plans and insurance arrangements.
To maintain objectivity and preserve personal confidentiality the whole process is overseen by a non-family adviser (usually an accountant, financial planner or lawyer) who uses something like a traffic light reporting system to inform the Family Council, or the Family Office, of the current compliance status of relevant family members:
Red = serious concerns that require urgent attention;
Amber = not perfect, but heading the right way; no immediate cause for alarm;
Green = all OK.
Shareholder and Buy/Sell Agreements
As families grow and circumstances change, some family members may wish to buy or sell their interests in the family business. This can create a great deal of tension in the family, unless agreed policies have been developed in advance.
The situation is made more complicated by the presence of family trusts and other forms of asset protection that are old and seriously out of step with current realities.
It's a good idea to get Shareholder Agreements in place when everyone is in a calm and happy headspace. If urgent needs arise and there are no defining processes, especially if there are medical or mortality issues in play, tensions can easily grow into conflicts.
Codes of Conduct
It's weird, but true: many families need a formal Code of Conduct to help manage communications, behaviours and interactions between family members, both in and out of the business.
Some family members behave towards each other in ways they wouldn't dream of doing with others, anywhere!  Tantrums, threats, screaming abuse, violence and resurrection of ancient family history are almost de rigueur in some families.  Such behaviours have no place in a business environment.
We sometimes find ourselves needing to introduce a Code of Conduct – just to allow us to start the process, safely.  Once ground rules have been agreed, even wildly uncontrollable individuals become somewhat more amenable to reasoned processes.
Meeting Procedures and Decision Making Rules
Many families are disturbingly bad at convening and running formal meetings; they're worse at making wise collective decisions (because they've always used an autocratic process in the past); and they have a terrible record of not sticking to decisions they do make, after they've made them.
This creates extraordinarily low trust environments in families – made all the more difficult because we naturally expect to find high trust in family situations.  Many parents delude themselves into believing that's what they have, because that's what they believe they should have.  Their adult children usually see things more clearly.
If this is so, there's little point in meeting to make important decisions until the family has acquired better skills and more reliable processes.   A half day workshop can make a huge difference – to people and processes.
Pre-Nuptials and Binding Financial Agreements
Despite recent Family Law "advances", high divorce and matrimonial separation rates, combined with increasingly complicated, blended family structures, cause profound terror for many family business owners.  They genuinely fear having their beloved business torn apart by family law proceedings driven by predatory spouses, or dastardly de facto partners. This creates major blockages in succession planning and generational transitions.
No longer just for the mega-wealthy, many "ordinary" business families now insist that all married family members, and those in long term de facto relationships, enter into binding financial agreements ("BFAs") that make adequate arrangements for departing partners AND block any potential attacks on the Family Empire.
We recommend placing requirements for compulsory BFAs in the Family Constitution and in the Mutual Obligations Charter.  Making it a standard family obligation helps to de-personalise the request, making it far easier to broach the topic with one's nearest and dearest.